Chris Hanburger
Washington Redskins
Linebacker
6'2" 220
1965 - 1978
14 Seasons
187 Games Played
19 Interceptions
5 Touchdowns
9 Pro Bowls
1972 NFC Defensive Player of the Year
Christian G. Hanburger was an 18th Round draft choice of the Redskins in 1965, played right away and was in the Pro Bowl by his second year in the league.
He would then begin a string of Pro Bowl appearances until 1969. He then resumed that string in 1972 until 1976. Sacks and tackles were not recorded in those days, but Hanburger was a play maker. He is considered one of the best of his era. He was known for his blitzing ability and pass coverage.
Ever the complete player, he returned three fumbles for touchdowns, third most in NFL history, in his career to go with two more on interceptions.
In 1972, Hanburger captained the Over The Hill gangs defense to a Super Bowl appearance, and was named the NFC Defensive Player of the Year.
Hanburger was known not only for good speed, but his exceptional quickness. He had the innate ability to diagnose a play before the ball was hiked. He often would cover the other teams tight end and peel off to knock passes down meant for wide receivers. Coach George Allen liked to have a safety first defense, leaving the rest to Hanburger and his fellow linebackers.
Chris Hanburger's nine Pro Bowl appearances are still the most by any player in the entire history of the Washington Redskins. His four First Team All-Pro honors is tied with Hall Of Famer Sammy Baugh as the most ever by any Redskin.
He is a member of the Redskins Ring Of Fame and 70 Greatest Redskins Team.
The game was played different for the most part in his era. The running game was most teams primary weapon. Tackling with sound fundamentals was a must then. Few players lead with their heads for "kill shots" because they would be injured much faster than today with innovations of modern technology on equipment nowadays.
It also should be remembered that players then did not command the same level of salaries that they do today. Most players would work a second job in the off season, compared to the luxury players have today to train whenever they choose to.
As a kid, I once heard a long time local media type say that he figured Hanburger had over 50 quarterback sacks in his career. This, coupled by the facts that are allowed in the record book truly says that there is NO DOUBT that Chris Hanburger SHOULD BE in the NFL Hall of Fame.
You can help Chris get his respect by signing this petition : http://www.ipetitions.com/petition/chrishanburgerhof/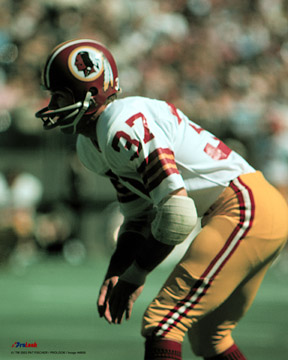 Pat Fischer
5'9" 170
Cornerback
1961 - 1977
17 Seasons
213 Games
56 Interceptions
941 Yards
4 Touchdowns
3 Pro Bowls
Patrick Fischer was a 17Th round draft choice of the Saint Louis Cardinals in 1961. He returned a few punts and kick offs in his Cardinal career, as well as catching one pass for 22 yards in his rookie year. He made two Pro Bowls in 1964 and '65 for Saint Louis.
He signed with Washington as a free agent in 1968, and made the 1969 Pro Bowl team. He was the teams shut down cornerback on the 1972 Super Bowl team. NFL Films listed Fischer as the Redskins All-Time Neutralizer in the 1980's.
Fischer is still all over the Cardinals record books. He is fifth most interceptions with 29, fifth in interception return yardage with 529, third in interceptions returned for touchdowns with three, third in consecutive games with an interception by accumulating five, ninth longest for the longest interception return for a touchdown when he took it 69 yards in 1967.
In 1964 he returned two interceptions for touchdowns, which ranks second in Cardinals history. Fischer also ranks third for most interceptions in a season for the Cardinals, when he snared 10 in 1964.
He also ranks seventh in Redskin history with 27 interceptions, and fourth ain interception return yardage with 412. When he retired, Fischer had played in a then-NFL record for games played by a cornerback with 213.
Fischer may appear small to those who never saw him play, but those who did know better. His battles with Philadelphia Eagles 6'8" wide receiver Harold Carmichael were legendary. Fisher often was also matched up against Dallas Cowboys wide receiver "Bullet" Bob Hayes, the fastest man in the world at one time.
He was a rough "bump and run" style defender full of tricks. One common move he would use was, if an opponent had to catch a pass over his head, Fischer would punch him in the gut or jaw. He made many plays versus the pass, but also excelled in run support.
Teams would often work away from Fischer and Ken Houston, when passing, due to their propensity of returning interceptions for touchdowns for the Redskins. Pat Fischer played in an era where defenders had to work harder. The 10 yard chuck rule was not changed to 5 yards until the 1979. Wide receivers also had to work harder to get open in that era.
The rushing attack was the primary weapon, and run support from defensive backs was a must in that era. Players like Deion Sanders may have been relegated to only punt return duty back then, possibly nickel back. Fischer also excelled on special teams, which was a must for head coach George Allen and special teams coach Marv Levy, who are both in the Pro Football Hall Of Fame.
He is a member of the Redskins Ring Of Fame and 70 Greatest Redskins Team.
Fischer had an excellent career. Is it worthy of Canton? After seeing how long it took a superstar like Emmitt Thomas to get in, and how a long list of former great cornerbacks like Louis Wright, Ken Riley, Lester Hayes, and others are not in yet, it may be a long shot.
Still, after looking at how his numbers compare with those cornerbacks that are inducted, there is no doubt in my mind that Pat Fischer should be in the Pro Football Hall of Fame.
Jerry Smith
6'3" 208
Tight End
1965- 1977
13 Seasons
168 Games Played
421 Receptions
5,496 Yards Receiving
60 Touchdowns
2 Pro Bowls
Jerry was drafted in the ninth round of the 1965 draft by Washington and wasn't used much by the head coach, Otto Graham, in his rookie year. He caught 19 passes for two touchdowns that year. Charley Taylor, then a halfback, was the primary weapon. Jerry was a back up wide receiver initially, but with two Hall of Famers, Taylor and Bobby Mitchell, as the primary targets of the newly acquired Hall of Fame QB Sonny Jurgensen, Graham decided to move Smith to tight end.
Jerry was used much like you now have seen Sterling Sharpe or Antonio Gates used. This was a trend setting move that allowed Smith to explode onto the NFL scene. In his second season, Smith caught 54 balls for 686 yards and six TD's. Smith had his best season as a pro in his third year. He caught 67 passes for 849 yards and 12 TD's.
He then caught 45, 54, and 43 passes the next three years to go with 24 TD's. Smith was hurt early in 1971 and only managed 16 catches with one score. He was never quite the same again.
In the Redskins Super Bowl year of '72, Smith did catch seven touchdowns on only 21 receptions. The following year he did not get into the end zone on 19 catches.
Finally showing signs of health in 1974, Smith caught 44 passes for 554 yards with three touchdowns from Billy Kilmer, who never threw to the TE much. The next year Smith caught 31 balls for 391 yards and three touchdowns.
Injuries besieged Smith in his final two years, and with newly acquired Jean Fugett now starting, Smith managed eight catches for 2 scores.
Smith retired with a then-NFL record 60 touchdown catches for tight ends. He finished second All-Time behind Mike Ditka for receptions and yards receiving by a tight end.
To this day, he ranks first in Washington Redskin history for tight ends in catches, yards receiving and touchdowns. He is also tied with three others with 12 TD's caught in a season. He is tied with ten other Redskins with three touchdowns in one game, something he did twice.
His team record 67 catches, in 14 games, for a tight end in a single season was surpassed by Chris Cooley, in 16 games, in 2005. Smith still ranks third in Redskin history in touchdown catches, and fourth in receptions overall in Redskins history.
While Smiths statistics may pale in today's modern game, one must remember that the NFL "chuck" rule was 10 yards in his playing days. It was a much rougher game as well back then. Clotheslines were frequent, as were players diving at each others knees. If Smith had the luxury of only a 5 yard chuck rule, his statistics surely would have increased.
Smith may never be inducted into Canton. He died at the age of 43 in 1986 of AIDS. He never had told anyone that he was a homosexual, but was outed by former team mate and lover, running back David Kopay (the first NFL player to announce his being gay) shortly after Smiths death. Kopay has asserted the NFL's homophobia in those days was so prevalent, that once he had announced he was gay, several coaching offers were rescinded.
Not that much has changed nowadays, as Jeremy Shockey's comments on the Howard Stern show revealed, but there is a hope that the NFL Senior Committee can look past the mans lifestyle and the politics involved.
Smith retired with superior stats comparatively to Hall of Fame tight ends such as John Mackey. He retired only 6 catches short of Ditka's then-NFL tight end reception record as well.
He is a member of the Redskins Ring Of Fame and 70 Greatest Redskins Team.
Jerry Smith may be a controversial subject to some. Even after everything that can be said for, or against him, his statistics tell a steadfast story. Smith was lauded by Sports Illustrated as a top pass catching tight end during his era. His legend on the gridiron still shines bright today, 31 years after his retirement. Maybe some will say he is on the fringe for induction, or that I'm being biased due to the Redskins being my favorite team as well.
Maybe these things are true.
Still, in my eyes, Jerry Smith belongs in the Pro Football Hall of Fame.
Russ Grimm
6'3" 273
Guard
1981-1991
11 Seasons
140 Games Played
4 Pro Bowls
Russell Scott Grimm was a third round draft pick by the Redskins in the 1981 draft. He played 14 games that year, and started in 11 of them. This was during a time where a young group of blockers would bond under the leadership of coach Joe Bugel and veteran offensive tackle George Starke to form one of the greatest offensive lines in NFL history. This was when "The Hogs" were born.
This nickname was given to them as they prepared for the 1982 season by Bugel. The season was shortened to nine games because of a players strike, and the WildCard Redskins blew right through the playoffs riding the backs of the Hogs. Washington then won their first Super Bowl, thanks to the blocking of the unit and the running of Hall Of Famer John Riggins.
Grimm made his first Pro Bowl in 1983, and the Redskins returned to the Super Bowl before losing to the Los Angeles Raiders. It was the first of his four consecutive Pro Bowl nods, and the first of three straight First Team All-NFL honors.
He also was a versatile athlete who was listed as the teams emergency quarterback. The 1987 season showed off his athleticism, when he had to start five games at center for the injured Jeff Bostic, then was injured himself. The Redskins went on to win their second Super Bowl.
He battled through injuries the next three years, and started in 24 of the 32 games he was able to play. After starting in just one games in 1991, he retired after the Redskins won their third Super Bowl in ten years that season.
Since his retirement, he has gone on to become one of the top offensive line coaches in the league. His name has come up often when teams are considering who to hire as a head coach. He has also been a finalist for induction into the Pro Football Hall Of Fame four times so far, and hopefully will soon find his way in Canton.
Russ Grimm is usually the first person thought of when "The Hogs" are discussed. He was a gritty blue collar player who was a key component of the Redskins famed counter trey play. His ability to pull was the primary reason the play was unstoppable, even though opponents knew it was coming.
He is a member of the Redskins Ring Of Fame, and is one of the 70 Greatest Redskins.
Gene Brito
6'1" 226
Defensive End
1951 - 1960
Nine Seasons
97 Games Played
47 Receptions
2 Touchdowns
5 Pro Bowls
Genaro Herman Brito was drafted in the 17th round of the 1951 draft by the Redskins. He was a 26 year old rookie, having spent time in the Armed Forces defending the United States in World War II.
The Redskins used him on offense a lot in his first two years, and Brito grabbed 47 passes and two touchdowns over that time. Disenchanted with his role, he then went to play for the Calgary Stampeders of the Canadian Football League with Redskins quarterback Eddie LeBaron. He was named to the All-Conference Team in his lone season with them.
Both players returned to the Redskins in 1955, and Washington put Brito exclusively at defensive end for the rest of his career. He was named NFL Player of the Year by the Washington D.C. Touchdown Club that year, and would go to the Pro Bowl in each of the five seasons he played in Washington.
He was named MVP of the 1958 Pro Bowl, the first Redskin to ever accrue that honor.
Brito was considered on of the best defensive lineman of the 1950's. Hall Of Famer Paul Brown once wanted to put a Cleveland jersey on him because "Brito was more in my backfield than his own". He also received the Presidential "Seal of Approval" from both Richard M. Nixon and John F. Kennedy for his high level of play at the end position. Both presidents referred to him as their favorite player.
He was so popular that he hosted a television show called "The Gene Brito Show", which was shown just before the actual games were played. He is considered one of the first players in NFL history to do this.
He joined the Los Angeles Rams in 1959, but was only able to play two games because of injuries. He returned in 1960 to play 11 games and was named Second Team All-NFL. He then retired.
Gene Brito is a member of the Redskins Ring Of Fame and 70 Greatest Redskins Team, and his three First Team All-NFL accolades are the second most in franchise history. No other defensive end in team history has appeared in as many Pro Bowls as he did in his career. He is one of the most popular Redskins ever, and their best defensive end ever. He is certainly worthy of induction into Canton.
Lemar Parrish
5'11" 181
Cornerback
1970 - 1982
13 Seasons
166 Games Played
47 Interceptions
13 Fumble Recoveries
13 Touchdowns
8 Pro Bowls
Lemar was drafted in the seventh round of the 1970 draft by the Cincinnati Bengals. He was incredible in his rookie season, getting five interceptions, and scoring a touchdown on both a punt return and kickoff return. He averaged 30.1 yards per kick return and also scored on a blocked field goal return. He would go to the Pro Bowl in each of his first two seasons.
He followed that up next season with seven interceptions. He took one interception 65 yards for a touchdown, and one fumble for a touchdown. In 1972, Parrish picked off five passes and took two in for touchdowns. He also returned a punt for a touchdown. In 1973, he has two interceptions and returned a fumble for a touchdown.
The 1974 season saw Parrish returned to the Pro Bowl by setting a still standing Bengals record with an NFL leading 18.8 yards per punt return average. He also scored two touchdowns on punt returns. One went for 90 yards and is presently the second longest in Bengals history. He also recovered a fumble and took it 47 yards for a touchdown.
He would go to the Pro Bowl every year up until the 1977 season. In 1977, Parrish had three interceptions and took one in for the last touchdown of his career.
After the 1977 season, Parrish was traded to the Redskins, after a contract dispute, with defensive end Coy Bacon by the Bengals to Washington for the Redskins' first-round pick in the 1979 draft. That first-round pick ended up being the 12th overall selection, which Cincinnati used to pick running back Charles Alexander out of Louisiana State.
Parrish was not asked to return kicks on the Redskins, yet still made a immediate impact on the Redskins defense his first year with four interceptions. The next year, he had nine interceptions and was named First Team All-NFL and to the Pro Bowl.. He followed that up with seven interceptions in 1980, and was named to his last Pro Bowl. Parrish left the Redskins after 1981, and joined the Buffalo Bills in 1982. He retired after that year.
Lemar Parrish is the Bengals All-Time leader in touchdowns scored by "return or recovery" with 13. This is still tied third All-Time in NFL history with two others. His two interceptions returned for TDs is still tied for the most in a game, with many others in NFL history. He was also the only player in Cincinnati history ever to score two "return or recovery" touchdowns in a single game, which he did separate 3 times.
When he retired, his three fumble returns for touchdowns tied an NFL record. He still fourth All-Time in Bengals history for interceptions in a career, and second in touchdowns scored by interception.
His four punt returns for touchdowns ranks first in Cincinnati Bengals history. He also is first in career average for kickoff returns with 24.7, touchdowns in a season on kick off returns, interceptions made in one game, and touchdowns returned via interceptions in a season and a single game.
He ranks second in Bengals history with 130 punt returns, and punt return yardage in a season and career. He is third in franchise history in interception return yardage in a career. His 95 yard kick off return currently is the sixth longest in Bengals history.
Parrish did not win the 1970 Rookie of the Year Award probably because the Bengals had two players win the award the two previous seasons, even though he had a superior season to the winner, 49ers CB Bruce Taylor.
Lemar Parrish is a member of the Cincinnati Bengals 40th Anniversary Team.
Parrish epitomized the definition of "play maker" in his career. He was a shut down cornerback who teams tried to avoid. He would make the opponents cringe when he was asked to return kicks or punts. Parrish teamed with Ken Riley to form, perhaps, the best cornerback duo in the NFL in the 1970's.
He was also noted for his ability to stop the run, which is something he had to supply often due to the Bengals porous front seven. Safety Tommy Casanova was a beneficiary of this cornerback tandem, and made 3 Pro Bowls from 1972 to 1977. Casanova retired after Parrish left the Bengals.
Teams could not beat the Bengals by passing the ball, but they would win by running the ball up the middle. The Bengals often challenged the great Steelers teams of the 1970's, but would come up short. The pass defense was never the reason.
While with the Redskins, Parrish also made fellow cornerback Joe Lavender a better player. Lavender made the Pro Bowl twice in his career, the same years that Lemar did. Parrish was a complete player. He could do it all. His penchant for taking the ball to the end zone was prodigious. He made his teams better, his teammates better, and now is teaching his students to be better.
Every year of his career saw him intercept at least one ball, except for his 1974 Pro Bowl season. To be named to the Pro Bowl by your peers, despite having no interceptions, truly shows his greatness and is an example of how opposing teams feared him. The following two Pro Bowl years of 1975 and '76 are further examples to make this fact concrete, because he had three interceptions total over this time.
I find it amazing to see Lemar Parrish yet to be inducted into Canton. Recent inductee Roger Wehrli went in with finally, so hopefully the voters are going to right long standing wrongs. It would be fitting to see Parrish and Riley inducted together.
Len Hauss
6'2" 235
Center
1964-1977
14 Seasons
196 Games Played
5 Pro Bowls
Leonard Moore Hauss was drafted in the ninth round of the 1964 draft by the Redskins. He soon earned a starting job by the fourth game of his rookie year, and would hold onto it the rest of his career. Hauss never missed a game in his entire career. His 14 years with the team is tied as the third most in franchise history.
He made his first Pro Bowl in 1966, then would make it three straight seasons between 1968 to 1970. The 1972 season was his last as a Pro Bowler, but he remained an upper echelon player for years in a decade where great NFC centers like Mick Tinglehoff, Jeff Van Note, Forrest Blue, and others were perennial Pro Bowl players as well.
When he retired after the 1977 season, he was the only center in Redskins history to attain five Pro Bowl honors. Jim Schrader is second with three Pro Bowls.
There is no doubt that Len Hauss is the greatest center in team history. He is a member of the Redskins Ring Of Fame, and is one of the 70 Greatest Redskins.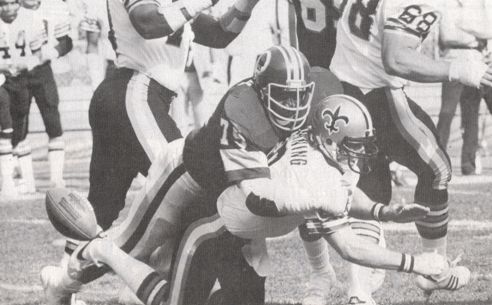 Coy Bacon
6'4" 270
Defensive End
1968 - 1981
14 Seasons
180 Games Played
130 Sacks
2 Touchdowns
3 Pro Bowls
Leander McCoy Bacon was an undrafted rookie signed by the Los Angeles Rams right before the 1968 season. Bacon had just come from playing in the Continental Football League. Coy had signed with the Charleston Rockets in 1966, after leaving Jackson State University upon completion of his sophomore year. While playing with the Rockets, Coy was named an CFL All-Star in 1966. Other NFL luminaries like Bill Walsh, Ken Stabler, and Garo Yepremian also were in the Continental Football League. .
Coy joined a Rams team that had one of the best defensive lines in football, featuring Hall Of Famers Deacon Jones and Merlin Olsen. They were called "The Fearsome Foursome", and Bacon played just seven games as a reserve in his rookie year.
He cracked the starting lineup the next year, and started 13 games at defensive tackle. He was moved to defensive end in 1970, recorded 20 sacks,and took a fumble 14 yards for a touchdown. Bacon then had 21 sacks and intercepted a pass the next year. He made his first Pro Bowl Team in 1972, and then was traded to the San Diego Chargers after that season as part of a blockbuster deal.
He picked off a pass that year for San Diego, and took it 80 yards for a touchdown. Bacon also led the Chargers in sacks in two of his three seasons with them.
Right after the 1975 season, the Chargers traded Bacon to the Cincinnati Bengals for Hall Of Fame Wide Receiver Charlie Joiner. Coy responded with 21.5 sacks, 2 fumble recoveries for 48 yards and a safety. He was named to the Pro Bowl Team. He then made his last Pro Bowl Team the next year for the Bengals, despite missing two games.
The Bengals then traded Bacon to the Washington Redskins right before 1978. Coy was the pass rusher the Redskins desperately needed, and he recorded double digits in sacks in each of his first three seasons with them.
He was 39 years old in 1981, and started the three games he played before being injured for the rest of the season. The Redskins released him in the off season, but Coy was not done playing. He joined the Washington Federals of the USFL in 1983, and had a few good games. He then retired for good after that year.
Bacon played in an era where sacks were not a recorded statistic. Some researchers have credited him with over 130 sacks in his career. If you discount the three games he played in 1981, you can easily see he averaged 10 sacks every year of his career. That includes his first two seasons as a defensive tackle.
He was one of the best pass rushers I have seen play the game. He was noted as a character who would not like to practice during the week of a game, reserving his energies for Sunday. He wasn't always stout against the run in the latter part of his career, but he made several spectacular plays when his team needed it most.
Coy recently passed away, and may be a fringe player for many as far as induction into Canton. Yet I look at a guy like Fred Dean get in and wonder why Coy is not. He was just as good a pass rusher, played on lesser defensive lines, meaning the primary focus was on him, and was better versus the run than Dean.
Coy Bacon is a victim of times passing, as the newer voters don't probably know who he is. He never played on any teams that won anything, so he never got the press he probably deserved. But even if you look at the statistics, you can see he is worthy of induction into the Pro Football Hall Of Fame.
Others?
There are other current and former Redskins who will possibly be inducted into Canton one day, and others who appear on their way.
Brian Mitchell
Chris Samuels
Champ Bailey
Joe Jacoby
Jim Lachey
Jason Taylor
Chris Cooley