Jack Tatum 5'10" 200 Safety Oakland Raiders 1971 - 1980 10 Seasons 136 Games Played 37 Interceptions 10 Fumble Recoveries 900 Return Yards 1 Touchdown 5 Pro Bowls
John David Tatum was a first round draft pick of the Oakland Raiders in 1971. He was the 19th player picked overall. Tatum did not start playing organized football until his tenth grade year. By his senior year in high school, Tatum was a high school All American. Tatum was recently named one of New Jersey's top ten high school defensive players of the century. Tatum went to college at Ohio State University. Two legends there would help change his path. Woody Hayes was planning to use Tatum as a running back, when his assistant coach, Lou Holtz, persuaded Hayes to move Tatum into the Safety position. Jack was used in several various ways in the Buckeyes defensive schemes. He would cover the other teams best receiver, and also play Linebacker. In his first game, as a Buckeye, Tatum knocked the opposing teams starting tight end and running out from the game. Jack was All Big Ten from his sophomore year until his senior year, and was a two time All American. He helped Ohio State get to two National Championship games in his collegiate career, winning once. Ohio State lost just two games in Tatum's three seasons playing. In his senior year, Tatum was named the National Defensive Player of the Year, and was a top finalist for the Heisman Trophy. Jack Tatum is a member of the the Ohio State Hall of Fame and the College Football Hall of Fame. Current Ohio State head coach Jim Tressel has instituted a "Jack Tatum Hit of the Week Award," given to the player who had the most impressive defensive hit of the game.
Tatum made an immediate impact upon his arrival in the NFL. One game, he knocked out two Baltimore Colts from the game. Hall of Fame Tight End John Mackey was one of the players. He intercepted 4 passes that year, and returned them for 136 yards. Tatum intercepted 4 passes the next year as well, gaining 91 yards on returns. He also set an then NFL record by returning a fumble 104 yards for the only touchdown of his NFL career. By 1973, Tatum was one of the most feared and respected Free Safeties in the NFL. He missed the first game of his career that year, but was named to his first Pro Bowl squad. Tatum would go on to be named to the Pro Bowl team until 1977. In 1977, Tatum snared 6 interceptions, and returned them for a career high 146 yard. He was a key ingredient to the Raiders team that would go on to win Super Bowl XI. Tatum would go on to intercept 5 passes over the course of the next two seasons. Tatum would then be traded to the Houston Oilers prior to the 1980 season. Jack responded by intercepting a career high 7 interception for 100 yards, despite not starting one game. He helped the Oilers win the AFC Central Division Championship. Houston, coincidentally, would then lose to the Wild Card Oakland Raiders in the first round. Tatum retired after that game. His 164 yards returned via fumbles ranks 16th All Time in NFL history, and his 736 yards returned by interception ranks 38th All Time in NFL history. Tatum's 636 yards rank first in Raiders history. It is 12 yards more than Dave Grayson, the player Jack replaced at Free Safety. No matter how one looks at Tatum, he in part of some of some of the most memorable moments in the NFL's history. The famous "Immaculate Reception", at the end of a playoff game in 1972, started when Tatum laid out Pittsburgh's John Fuqua. Most fans recall Hall of Fame Running Back Franco Harris gathering the caromed ball and taking it for a game winning touchdown.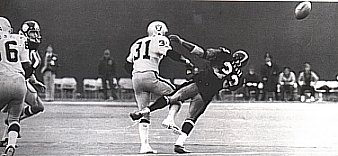 In Super Bowl XI, Vikings Wide Receiver Sammy White was leveled by Tatum on a crossing pattern, but the Vikings Great held onto the ball.
During a 1978 pre-season game, Tatum hit New England Wide Receiver Darryl Stingley in a play that would paralyze Stingley for life.
Tatum happened to play on a team that was called the "Bad Boys" of the 1970's NFL. It was a unique roster full of characters. Tatum was nicknamed the "Assassin" due to his hard hitting ability. The hit on Stingley, coupled with the Raiders already established reputation, gave Jack an unfair label of being a dirty player. He was vilified by casual observers, and anti-Raider media types after this play. Tatum once said, "I always wanted to hit someone hard, and if they got hurt, that was just part of the game. But you always wanted them to be ok." Tatum admitted his hitting prowess "borderlines on felonious assault." The game was much rougher back then. Yet the media continues to try to spin this fabricated tale that Jack was a cheap short artist. "They said on ESPN that I hit Stingley in the back and that's just a lie," Tatum said. "It's amazing to me that they lie like that when they can just look at the hit. They have it on tape." As you can see in the picture, the hit was clean. Even then-Patriots Head Coach Chuck Fairbanks said the hit was far from dirty. Propaganda machines like ESPN are probably a big factor as to why Tatum has yet to be inducted into Canton. Many media types try to say Jack is remorseless about this play. Tatum has expressed sorrow on televised interviews, only to have that part edited out. "I feel sorry for what happened to him," said Tatum, "I tried to apologize to him a number of times, but people around him wouldn't let that happen." Idiots like Sports Illustrateds Paul Zimmerman, a voter, are other big reasons why Tatum has yet to be inducted into the Pro Football Hall of Fame. It is sick, and unfair, that Tatum is being labeled for one play. A play no one wants to remember in its reality, rather to fabricate this villainous imagery. This play is the main reason the NFL went from the 10 yard chuck rule to the current 5 yard rule. Tatum is still part of the NFL today as part of the Uniform Code Enforcement Team, commonly known as the "fashion police". There needs to be one major enforcement. This on the media who lie. Jack Tatum may have hit guys hard, but that is the way the game was played then. He played within the rules. He was not flagged nor fined for his hit on Stingley. That is the reality. Tatum is a player many look up to. Hall of Famer Ronnie Lott is on record for idolizing Tatum. That is a reality. It is time for the voters to do away with spun fabrications and deal with reality. Just look at his statistics if you want to have disdain for his impact. Jack Tatum deserves his place in Canton.
Notable Players Drafted In 1971 (* Denotes Canton Inductee)
1. Jim Plunkett, QB, New England
2. Archie Manning, QB, New Orleans
3. Dan Pastorini, QB, Houston Oilers
4. J.D. Hill, WR, Buffalo
6. John Riggins, RB, NY Jets *
8. Frank Lewis, WR, Pittsburgh
9. John Brockington, RB, Green Bay
10. Isiah Robertson, LB, LA Rams
14. Clarence R. Scott, DB, Cleveland
15. Vern Holland, OT, Cincinnati
17. Norm Thompson, DB, Saint Louis Cardinals
20. Jack Youngblood, DE, LA Rams *
21. Bob Bell, DT, Detroit
22. Don McCauley, RB, Baltimore Colts
27. Julius Adams, DE, New England
34. Jack Ham, LB, Pittsburgh *
35. Dwight Harrison, DB, Denver
39. Wilbur Young, DE, Kansas City
43. Dan Dierdorf, OT, St. Louis Cardinals *
45. Phil Viilapiano, LB, Oakland
48. Charlie Weaver, LB, Detroit
56. Lynn Dickey, QB, Houston Oilers
57. Jim Braxton, FB, Buffalo
63. Dave Elmendorf, DB, LA Rams
64. Tony McGee, DE, Chicago
67. Ken Anderson, QB, Cincinnati
68. Charlie Hall, LB, Cleveland
71. Bob Newton, G, Chicago
75. Willie Parker, C, San Francisco
77. Bill Gregory, DE, Dallas
79. Lyle Alzado, DE, Denver
86. Gerry Mullins, G, Pittsburgh
98. Don Morrison, OT, New Orleans
99. Joe Theismann, QB, Miami
104. Dwight White, DE, Pittsburgh
106. Larry Brown, OT, Pittsburgh
107. Donnie Green, OT, Buffalo
111. Ray Jarvis, WR, Atlanta
115. Bryant Salter, DB, San Diego
120. Mike Adamle, RB, Kansas City
123. Bob Moore, TE, Oakland
134. Willie Alexander, DB, Houston
136. Phil Wise, DB, NY Jets
142. Doug Dieken, OT, Cleveland
147. Mel Gray, WR, St. Louis
148. Ray Brown, DB, Atlanta
160. Bob Chandler, WR, Buffalo
161. Harold Carmichael, WR, Philadelphia
179. John Watson, G, San Francisco
191. Mike Sensibaugh, DB, Kansas City
199. Ron Yankowski, DE, St. Louis
203. Ernie Holmes, DT, Pittsburgh
206. Ron Jessie, WR, Dallas
212. Floyd Rice, LB, Houston
230. Vern Den Herder, DE, Miami
262. Bob Pollard, DE, New Orleans
268. Mike Wagner, FS, Pittsburgh
272. George Starke, OT, Washington
276. Nate Allen, DB, Kansas City
292. Rich Sowells, DB, NY Jets
297. Jeff Severson, DB, Washington
304. Tom Blanchard, P, NY Giants
305. Horace Jones, DE, Oakland
322. Dan Ryczek, C, Washington
330. Dave Roller, DT, NY Giants
352. Rick Kingrea, LB, Cleveland
361. Bill Dunstan, DT, San Francisco
388. Jeff Wright, S, Minnesota
418. Randy Vataha, WR, LA Rams
441. Don Nottingham, FB, Baltimore