Jack Kemp
6'1" 201
Quarterback
Buffalo Bills
1957-1969
11 Seasons
122 Games Played
7 Pro Bowls
1965 AFL MVP
AFL All-Time Leader In Passing Yards
AFL All-Time Leader In Attempts / Completions
5 AFL Title Games In 7 Seasons
Jack French Kemp was drafted in the 17th round of the 1957 draft by the Detroit Lions. He had went to Occidental College previously, a small private liberal arts school. Occidental has produced six NFL players and Kemp is the most successful.
Kemp is also probably the most famous alumnus of Occidental, though Terry Gilliam of Monty Python should be considered. Barack Obama, the 44th President of the United States, attended the school for two years before transferring.
Kemp's college roommate was Jim E. Mora, who would later become a head coach for several professional football teams. Kemp was an All-Conference player who was the nation's No. 3 small college passer as a senior. He even set a school record throwing the javelin with the track team.
Not only did Kemp's wife attend Occidental, but two of his children and his younger brother did as well. Occidental is unveiling a statue of Jack Kemp on April 29, 2011 to celebrate all of his accomplishments.
Detroit cut Kemp during training camp, but the Pittsburgh Steelers signed him to backup Hall of Famer Len Dawson and the legendary Earl Morrall. Though Morrall made the Pro Bowl that year, Kemp got in on four games and completed eight balls for 88 yards.
Pittsburgh acquired Hall of Fame quarterback Bobby Layne the next year, so they released Kemp. He signed on with the San Francisco 49ers, spending a few weeks on their taxi squad before being cut.
The New York Giants signed him to their taxi squad, where he remained all season as the Giants made it to the title game and lost in "The Greatest Game Ever Played". It was the first post-season game that had an overtime period, where the Baltimore Colts prevailed.
The Giants then used their 1959 first-round draft pick on quarterback Lee Grosscup, the innovator of the shovel pass. Kemp was released and found no NFL teams interested. He joined the Calgary Stampeders on the Canadian Football League, but was cut after one game.
Having being cut by a CFL and four NFL teams did not discourage Kemp. Though his family was trying to coax him to quit playing football and get on with his life, Kemp saw an alternative.
The American Football League was to begin play in 1960. Since Kemp did have NFL experience, the Los Angeles Chargers signed him as a free agent. Bob Clatterbuck, who had last played in 1957 after four years with the Giants, was Kemp's primary competition in camp.
Kemp won the starting job and his leadership skills quickly catapulted him to being a team captain. He was named First Team All-Pro that year, but the AFL did not yet have their Al-Star game. The Chargers reached the title game, but lost.
He was named to the very first AFL All-Star squad in 1961 after helping the Chargers, now playing in San Diego, win their first ten games. They reached the title game and again lost to the Houston Oilers for the second straight year.
The 1962 season was one of his most difficult. He severely hurt his shoulder in 1961 when he was serving in the military and had to go to Germany when the Berlin Wall was erected. He had went through most of that year taking up to ten pain killer shots each game.
He broke two fingers on his throwing hand in the second game of the year. The Chargers had drafted John Hadl that year, but planned him to spend his rookie year on the bench. With Kemp out, the Chargers won just four games.
Hall of Fame head coach Sid Gillman made the mistake of trying to hide Kemp on the taxi squad, as he recovered, by waiving him. Three teams immediately tried to claim him and he was awarded to the Buffalo Bills.
He recovered from his injuries well enough to play the last four games of that 1962 season. Though he played just six games that year, he was named an All-Star. It showed the respect Kemp had from his peers.
Buffalo named Kemp a captain as well. This move paid off when star running back Cookie Gilchrist was frustrated one game by the lack of touches and refused to go back on the field. Head coach Lou Saban was about to release Gilchrist, but Kemp convinced Saban to keep a very important member of the team.
Though he made the All-Star team again in 1963, Buffalo had another young quarterback to push Kemp in camp. Daryle Lamonica was drafted in the 24th round, but impressed the Bills coaches enough to start two games that year.
The Bills had the best defense in the AFL in 1964. With the combination of the multi-talented Gilchrist, the swarming defense, and Kemp's leadership, Buffalo won the AFL Championship Game that year by defeating the defending champion Chargers 20-7.
Buffalo went back to the title game in 1965 and beat the Chargers again for the ttle. It is still the last time the Bills franchise has won a championship. Not only was Kemp named an All-Star, he was named First Team All-Pro.
Not only was he named the MVP oh the 1965 title game, but he also shared the AFL MVP Award with ex-Chargers teammate Paul Lowe.
Buffalo reached the championship game again in 1966. They faced the Kansas City Chiefs for the right to oppose the Green Bay Packers in what later would be called the first Super Bowl game ever. Kansas City won, yet Kemp was named an All-Star again.
Buffalo then traded Lamonica to the Oakland Raiders for quarterback Tom Flores, who was coming off a Pro Bowl season himself. Flores, who later led the Raiders to two Super Bowl victories as a head coach, lasted just over two years as a reserve for Buffalo.
Kemp struggled in the 1967 season as he would not be named an All-Star for the first time in his career. He looked to rebound the next year, but teammate Ron McDole fell on his knee in practice and Kemp had to miss the season before it started.
The Bills drafted 1968 Heisman Trophy winner O.J. Simpson, a future member of the Pro Football Hall of Fame, in 1969. Kemp returned and was named an All-Star for the last time, making him one of the few players to have played in the first and last All-Star games.
He also successfully lobbied to have all AFL teams wear a patch that year to honor a league that had tremendous impact on professional football. Kemp had already shown intense support of his peers by co-founding the AFL Players Association and served as president five times.
Though just 34-years old and holding a four-year no-cut contract, Kemp decided to try politics in 1970. He was elected to Congress, where he stayed until 1989. He then ran the Housing and Urban Development Department until 1993 and ran for Vice-President in 1996.
After getting out of politics, Kemp worked with children as vice president of NFL Charities and worked with youth football. His son Jeff was an NFL quarterback for 11 seasons, and his som Jim played quarterback in the CFL for nine years.
He is the only person to start at quarterback the entire 10 years the AFL existed. Besides leading his teams to five championship games, Kemp was an All Star every year but two. He is also one of just 20 men to have played all 10 years of the AFL's existence.
Though Kemp was not named to the AFL All-Time Team, where Hall of Famers Dawson and Joe Namath were, he holds many league records. He has the most passing attempts and completions, as well as passing yards, in AFL history for a career and in championship games.
He and Frank Tripucka became the AFL's first 3,000-yard passers in AFL history in the last week of the 1960 season. Tripucka won the title of most yards passing by 20 yards.
Critics of Kemp point out how he took a lot of sacks and had 69 more career interceptions than touchdown passes. He was once sacked 11 times in game, which is an AFL record and is tied with 12 others as the second most ever in professional football history.
The truth is that Kemp liked to throw the ball deep down the field for significant gains. His career average of 14.8 yards per completion is still the 11th best ever. He is still ranked in the top-100 in many quarterbacking categories as well.
Not only was Kemp a winner, but he was also a role model for young players. Lamonica went on to be a five-time Pro Bowler who was named AFL MVP twice and won three championships. He also has the second best winning percentage ever by a quarterback.
Hadl went on to be a six-time Pro Bowler who won a championship and was the 1973 NFC Player of the Year. Kemp also mentored a young James Harris, the first black quarterback to begin the season as a starter and second ever to start any game as a quarterback.
Harris, who coincidentally replaced Hadl in 1974, went to his only Pro Bowl in 1974 and was named the Pro Bowl MVP. Much like his political career, Kemp sought equality while playing.
When in Louisiana in 1965, Kemp was with Gilchrist and Ernie Warlick to play in the AFL All-Star Game to be held in New Orleans. When they tried to catch a cab to the hotel, the cabbie told Kemp only he could ride and Gilchrist and Warlick would have to take a "colored cab".
Kemp refused to ride in the cab, saying if it wasn't good enough for his teammate then it wasn't good enough for him. Gilchrist led a players petition to boycott playing the game in New Orleans, which was joined by Kemp. The game was moved to Houston in what was one of the first civil rights stands in professional football history.
When you look at Kemp's career, it is much like his entire life. The man was a winner with an unquenchable thirst to be his best. Not only did he lead by his play, his toughness was legendary.
Besides playing with the bad shoulder in 1961 and broken fingers in 1962, Kemp was given a waiver by the military because of knee problems. Hall of Fame offensive tackle, and Chargers teammate, Ron Mix noted that "it sounds weird, but he could play football and not be fit to serve in the Army".
His is a story of never giving up on his dream, even after five teams cut ties with him and his own family doubted his dreams. A dream that can be called an "All-American Dream", Kemp lived it for 11 years while losing three in between for various reasons.
There are quite a number of people in Canton because they won titles. While Kemp's passing numbers might not blow away the modern fan, the rules of the era must be considered. Despite an era where defenses could actually play defense, Kemp often got the ball deep down the field.
Though Hall of Famer Jim Kelly now owns most of team records for Buffalo Bills quarterbacks, Kemp went to two more Pro Bowls and was named First Team All-Pro one more time than Kelly. His five title games is tied with legends like Hall of Famer Sid Luckman, while Kelly played in four.
He had just three years where his teams had losing records and he won 28 more contests than he lost. Kemp was also a good running quarterback, having scored 40 times. He was second in rushing touchdowns during the Bills 1965 title season.
Not only did he give back to the game both as a player and retiree, Kemp was a rare man who truly believed in dignity after football. He often reminded people of the AFL's impact, something the Canton voters seem to have ignored much too often.
As I often say in the AFL legends I profile, the building in Canton clearly says Pro Football Hall of Fame. Some voters have tried to turn it into the NFL Hall of Fame by spurning the deserving candidacies of several gridiron greats who wore uniforms for other leagues like the AFL and AAFC.
When you look at his body of work, Jack Kemp belongs in Canton. Not only did he win too much to be ignored, but his contributions to the game can no longer go on being slighted. Wake up the Canton voters in your area and let them know that Kemp's long overdue respect is still waiting.
Notable Players Drafted In 1957 ( * Denotes Canton Inductee )
1. Paul Hornung, RB, Green Bay Packers *
2. Jon Arnett, RB, Los Angeles Rams
3. John Brodie, QB, San Francisco 49ers
4. Ron Kramer, TE, Packers
5. Len Dawson, QB, Pittsburgh Steelers *
6. Jim Brown, FB, Cleveland Browns *
8. Jim Parker, G, Baltimore Colts *
11. Del Shofner, WR, Rams
12. Bill Glass, DE, Detroit Lions
14. Jack Pardee, LB, Rams
15. Abe Woodson, CB, 49ers
17. Milt Plum, QB, Browns
19. Billy Ray Barnes, RB, Philadelphia Eagles
21. Joe Walton, TE, Washington Redskins (Notable Coach)
24. John Gordy, G, Lions
31. Tommy McDonald, WR, Eagles *
36. Terry Barr, RB, Lions
43. Sonny Jurgensen, QB, Eagles *
47. Lamar Lundy, DE, Rams
52. Henry Jordan, DT, Browns *
70. John Nisby, G, Packers
78. Gene Hickerson, G, Browns *
94. Charlie Bradshaw, OL, Rams
109. Don Maynard, WR, New York Giants *
128. Tommy Davis, K, 49ers
291. Jimmy Orr, WR, Rams
Kemp with Jim Mora Sr.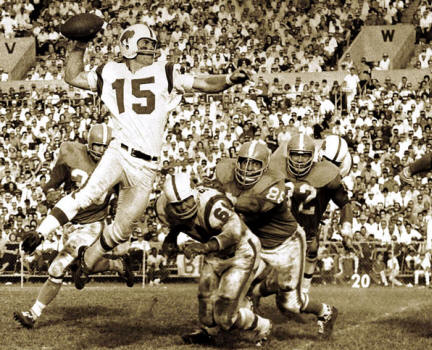 Kemp with Sid Gillman